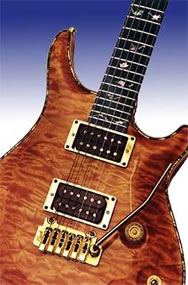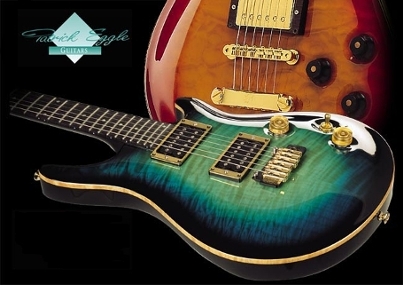 "Patrick Eggle Guitars - The Legendary Years (90s) - An Independent & Unofficial Website" is a resource celebrating some of the finest examples of British Guitar Luthiery — specifically those guitars made between 1991 and 2000 under the various ownerships that began with Patrick Eggle and Andrew Selby forming a new British company to make superlative quality electric guitars and ended with the sale/closure of the company when PEG owner Dave Quill sold his Musical Exchanges business to Sound Control in 2000. This website is "independent and unofficial" in the context that it has no affiliation to the guitars made by the current owners of the company "Patrick Eggle Limited", nor those made by the company "Patrick James Eggle Guitars Limited". With that disclaimer out of the way, let's start at the beginning ...
The comprehensive range of Patrick Eggle Guitars began modestly with a design based upon one of Patrick's early (pre-PEG) models, the Climaxe — this new model was named Berlin. The Berlin was made available in various configurations beginning with a basic model, the Berlin Standard, then the higher specification Berlin Plus, followed by the Berlin Pro, Berlin DLX and Berlin JS Legend models. Later years saw the addition of other models in the range like the Berlin Stage, Berlin USA Celebration, Berlin Vintage Classic, Berlin Anniversary, Berlin Wall and Berlin EVO.
The Berlin Standard, though basic in terms of trim, finish and hardware appointments, was a very sophisticated guitar constructed using Brazilian Mahogany for the back and a beautifully contoured Maple top, with a glued-in neck construction sporting a distinctive headstock shape — build quality was amongst the very finest available anywhere in terms of production-made electric guitars. Therefore, these guitars were not cheap ...
In order to serve a wider market Patrick Eggle Guitars then introduced what might undeservedly be described as a budget model, the New York — better described as a fit-for-purpose workhorse! Featuring bolt-on neck construction (with one or two exceptions), a stylish compact body and a completely different sonic style, these quickly found favour with gigging guitarists. The range included the following models: the New York Standard (NY Standard), New York Plus (NY Plus), New York Pro (NY Pro), New York DLX (with set-neck), New York Anniversary (NY Anniversary), New York Broadway (semi-acoustic), New York Junior (NY Junior), New York Liberty (NY Liberty) and New York Bass 4 (yes, a subsonic version)! It should be noted that the build quality of this range was not sub-standard — even the cheapest NY Junior was superbly crafted to very high standards!
There was also Patrick's interpretation of the "Strat" (Leo's classic Fender) named the Los Angeles. The range included the following models: Los Angeles Standard (LA Standard), Los Angeles Plus (LA Plus), Los Angeles Pro (LA Pro), Los Angeles Pro II (LA Pro II), Los Angeles Pro 22 (LA Pro 22) and Los Angeles Classic (LA Classic). Again, all built to an extremely high standard irrespective of trim levels and appointments.
The remaining models of the period encompass 4 ranges: the Vienna, the Boston or Tony Iommi Artist, the Stratford (acoustic flat-top) and Milan (bass). These ranges included the following models: Vienna Plus, Vienna Pro, Boston Stage, Tony Iommi Artist, Tony Iommi Artist Model 1995, Stratford Pro, Stratford DLX, Milan IV and Milan V.
To discover more information about Patrick Eggle Guitars made in the Legendary 90s, please visit the new independent and unofficial Patrick Eggle Guitars Forum and register as a member — ask questions, tell us about your instrument or help others seeking information!